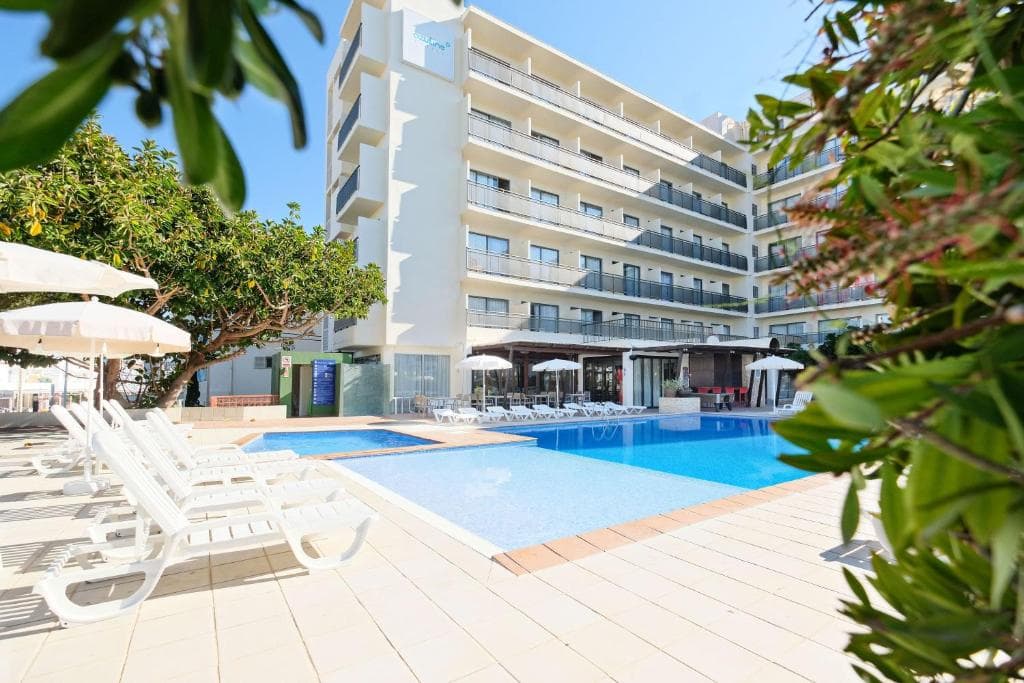 S'Anfora Hotel
(3.4 / 5 ⭐️)
Description:
The Azuline Hotel S Anfora enjoys a strategic location which is between the San Antonio Bay and San Antonio city, on the island of Ibiza. It is just a few minutes walk from the beach and 20 kilometers from the airport. The bay area has a relaxed atmosphere.

However, San Antonio is well known for the big discos and lively areas of the West End.

S'Anfora is located close to the popular clubs Paradis and Eden. Youngsters can have a good time over there. If you are staying over here then you can visit the city centre very easily. The city centre is just 1000 meters from the hotel. If you wish you can even take a bus which you can get from the bus stop which is 50 meters away from the hotel.

The Azuline Hotel S Anfora has 152 double rooms and 3 single rooms renovated in 2006, that are brightly decorated. Each of the rooms is fully air-conditioned. The rooms have a well equipped en suite bathroom, a private balcony and direct dial telephone. S'Anfora offer friendly reception staffs who works round the clock to please the guests.

You can spend relaxing days when you are staying here. For entertainment, guests can try their hand at the pool table and children can indulge in playing video games. So, you will never have a boring moment when you are staying in S Anfora.

The pool bar is located conveniently to offer its guests refreshments and snacks that will ensure that you do not have to move away from your sun-lounger. At Azuline Hotel S Anfora have a great start every morning as you get to eat a great International breakfast at the buffet restaurant.

The prices offered by the Azuline Hotel S Anfora makes it a favorite place for the young people who are looking for a budget holiday in Spain. It has 2 stars category. The hotel does not accept booking from children who are under the age of 18.

Some of the facilities and amenities offered by the hotel are as follows:

• Snack bar
• Sun terrace
• Games room (table tennis and billiards)
• 24-hour reception desk
• A large communal outdoor pool
• Internet corner
• TV lounge and buffet restaurant
• 24-Hour reception
• Housekeeping

So, if you are in search of a comfortable accommodation that comes at a budget-friendly price then book the S Anfora hotel today for your upcoming vacation!
Amenities:
pool
air conditioning
breakfast
wifi
bar
smoke free
Tag:
atmosphere
cleanliness
fitness