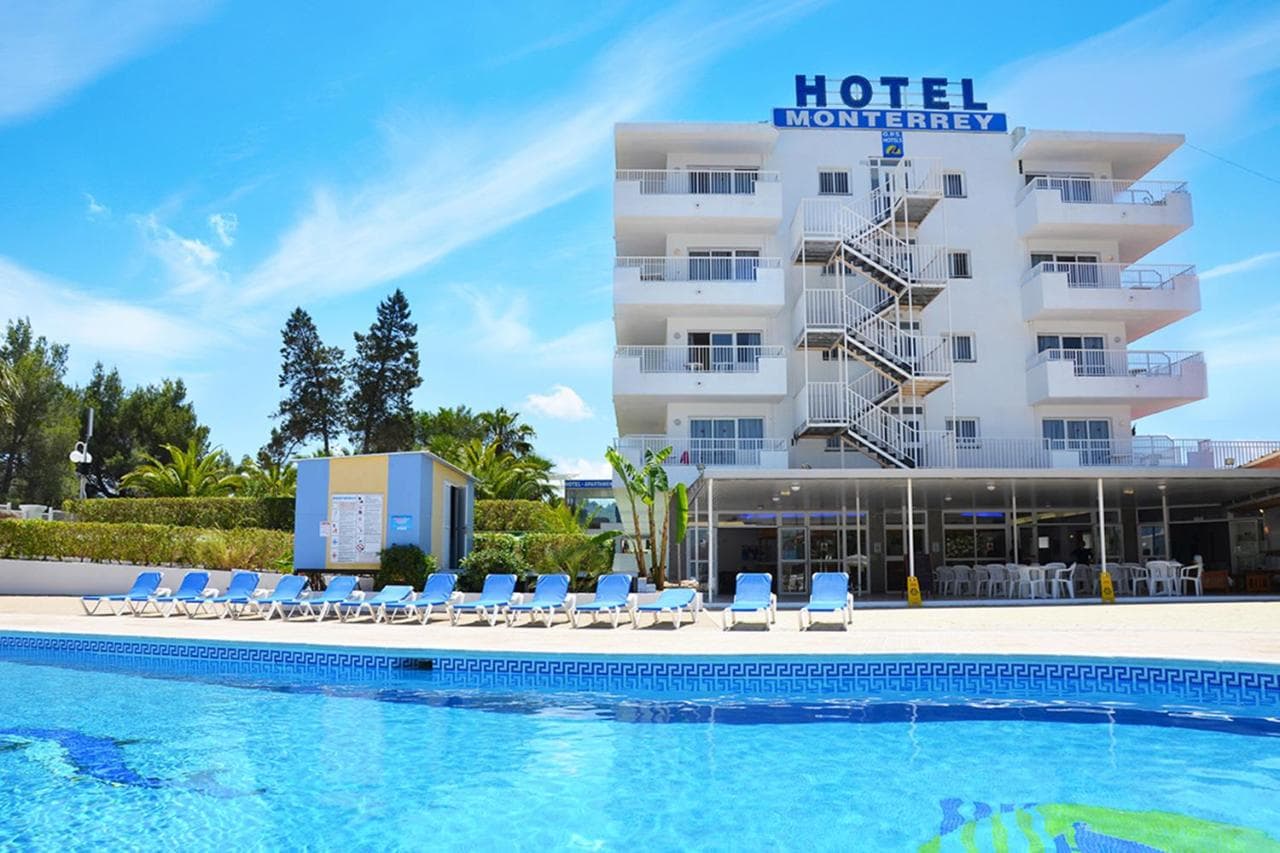 Description:
Located in a premier location on the San Antonio Bay and near the exciting beaches like Punta Pinet is the Monterrey Hotel Ibiza. The hotel is only few steps from the port of San Antonio and is within walking distance to the Passeig De ses Fonts and the nearby clubs, shops and bars and varied other attractions. There is public transport available nearby and the hotel is only 20 minutes drive from the international airport.

Monterrey Hotel was opened in the year 1982 and was renovated recently. The hotel is surrounded by beautiful gardens and offers the guests a relaxing atmosphere where they can spend some quality time with their family or friends. They can enjoy the opportunity of taking a walk in the garden along with the magnificent panoramic views of the bay.

The hotel has 135 studios that are air conditioned and are spread over four floors. The rooms have a modern décor and have a combination of yellows and blues. The rooms are cozy and offers extremely cheerful ambience.

There is a separate living area with simple furnishings and all the rooms include

• Satellite television
• Music
• Telephone
• Kitchen
• Mini fridge
• Full bathroom
• Balcony
The property has two swimming pools; one for the adult and the other for the children. Guests can enjoy in the sun terrace, poolside bar or unwind in the open air hot tub. There is a restaurant that offers extensive international buffet in a light modern setting.

Monterrey Hotel also offers various activities for both the adults and the children.

Some of them are

• Tennis courts
• Windsurfing
• Water activities
• Billiards
• Jacuzzi

Visitors can enjoy the Amnesia and Privilege Disco that is just 8 km away. The hotel also offers the visitors

• 24 hr reception
• Currency exchange facility
• Safety deposit box
• Bike rentals
• Wake up service
• Multi lingual staff
• Luggage storage
• Ticket service

For more details check our website and make your bookings in advance!
Tag:
atmosphere
cleanliness
restaurant
breakfast