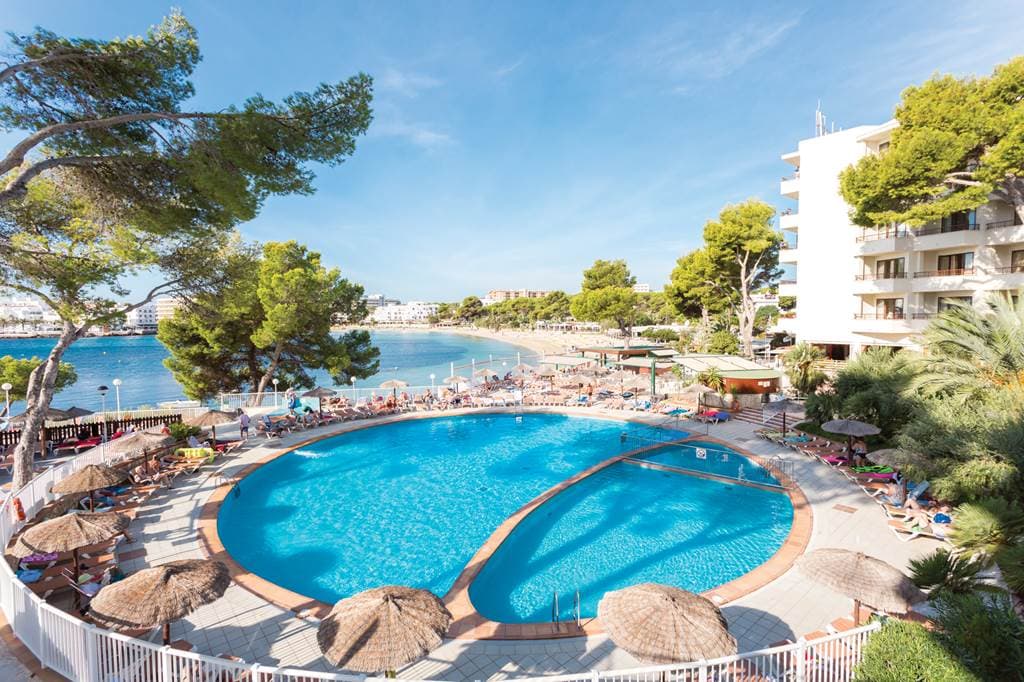 Description:
Located within the easy reach of San Antonio Bay and few meters from S'Estanyol beach is the Mar Amantis hotel that is an ideal place for young people and families who want to stay close the beach area. The hotel is composed of 2 buildings and among them one is situated on the seafront.

Mar Amantis is about 15 Km from the San Jose airport and takes only 25 minutes to reach the destination. Choosing to stay here means you can easily explore the picturesque beaches on the nearby coastline and at the same time enjoy some activities and games on the beach. Mar Amantis 1 offers 132 rooms to the guests and Mar Amantis II offers 162 rooms to the guests. Both the hotels have a relaxed atmosphere with family oriented facilities.

The rooms have

• Satellite TV
• Air conditioning
• Fully equipped bath
• Direct telephone
• Safety deposit box (rental)
• Balcony or terrace
•
The hotel also has a restaurant that serves breakfast from 8 am to 10 15 am and lunch from 1 pm to 3 pm and dinner from 7 pm to 9:30 pm in buffet style. Snacks that include burgers, hot dogs, nuggets, chips etc are also served from the main restaurant. There is a bar that serves unlimited locally produced alcohol and drinks from 10 am to 9 pm.

Mar Amantis offers some of the best entertainment and lively sports activities. It has a swimming pool with a children's pool separately. Surrounded by a well furnished sun terrace, the swimming pool offers a refreshing alternative to the beach and serves as a perfect place to catch up with sleep after some entertainment at night before. By choosing this hotel, guests can explore the fascinating hidden coves and secluded beaches.

Other services and facilities include

• 24 hours reception
• Money exchange facility
• Air conditioning in dining room and lounges
• Laundry service
• Lounge with game areas
• Wi-Fi in commune areas
• Gymnasium
• Volley ball min golf
• Bakerey

If all these facilities satisfy your needs then we can help you with advanced bookings!
Amenities:
beach front
pool
breakfast
air conditioning
bar
restaurant
child friendly