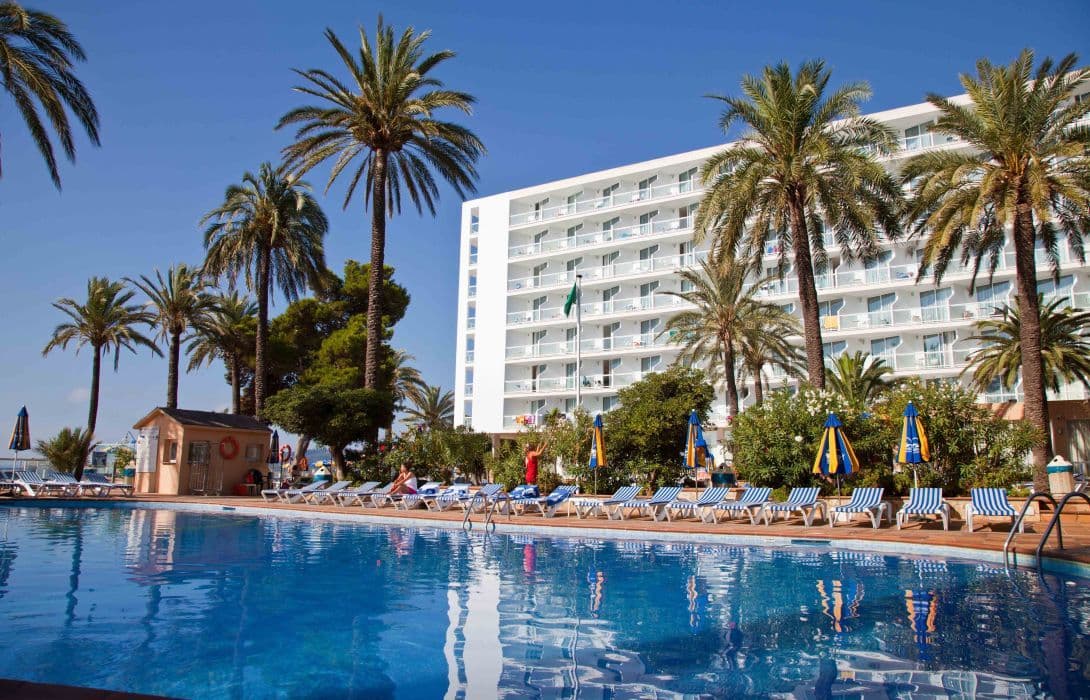 Sirenis Goleta Tres Carabelas Spa
(4.3 / 5 ⭐️)
Description:
Sirenis Goleta Tres Carabelas Spa Ibiza is an ideal hotel to spend a wonderful vacation. It is situated at the foot of the wonderful beach of Playa d'en Bossa, making it extremely attractive to all tourists.

Being one of the well-known 4 star hotels in Ibiza, this accommodation option offers high-quality amenities and services to its guests.

This hotel is mostly visited by families and couples. So, if you really want to spend the special moments with your dear ones then the Sirenis Goleta Tres Carabelas Spa is the ideal option. There are around 424 well equipped rooms in the hotel. Each of them is beautifully decorated and ready with modern facilities.

Room facilities at Sirenis Goleta Tres Carabelas Spa Ibiza

• Satellite television
• Air conditioning
• Comfortable beds
• Electronic keys
• Hair dryer
• Bathrooms
• Balcony/terrace

In order to make your vacation memorable and comfortable, the hotel offers everything that you can expect from a hotel of this standard. There are several recreational activities that include water polo, aerobics, squash, tennis, billiards, darts, etc.

Both children and adults can enjoy swimming at the separate pools present inside the hotel campus. As there are facilities of poolside bars, Jacuzzis, whirlpools and pool games in the complex, you would love to spend your time there at complete comfort.

Sirenis Goleta Tres Carabelas Spa Ibiza hosts both nighttime shows and daytime entertainments for its guests. There is a buffet restaurant in the hotel where you can enjoy mouth-watering meals with your family. There are bars for you where you can taste some refreshing drinks and snacks.

As the hotel is located close by the town center, it would be easier for you to check out the popular tourist attractions. The town has lots of local attractions such as restaurants, shops, bars where you can keep yourself busy all day.

To add to your refreshment, you can also enjoy massages and treatments to revitalize your body and mind.

Other amenities and services offered by the hotel are as follows:

• Safe deposit box
• Fitness center
• Laundry
• Heated pool
• Concierge facilities
• Outdoor pool
• Spa
• Mini bar
• Disabled facility
• Wi-Fi internet connection

Whenever you visit Sirenis Goleta Tres Carabelas Spa Ibiza, you would always receive warm and friendly welcome from the staff. Book your room today before you are late.
Amenities:
pool
parking
breakfast
wifi
restaurant
bar
room service
fitness
child friendly
accessible
housekeeping
Contact Information
Email:

Info@ibiza-hotels.com

Phone:

+34 971 33 02 75

Location:

playa den bossa, Spain.