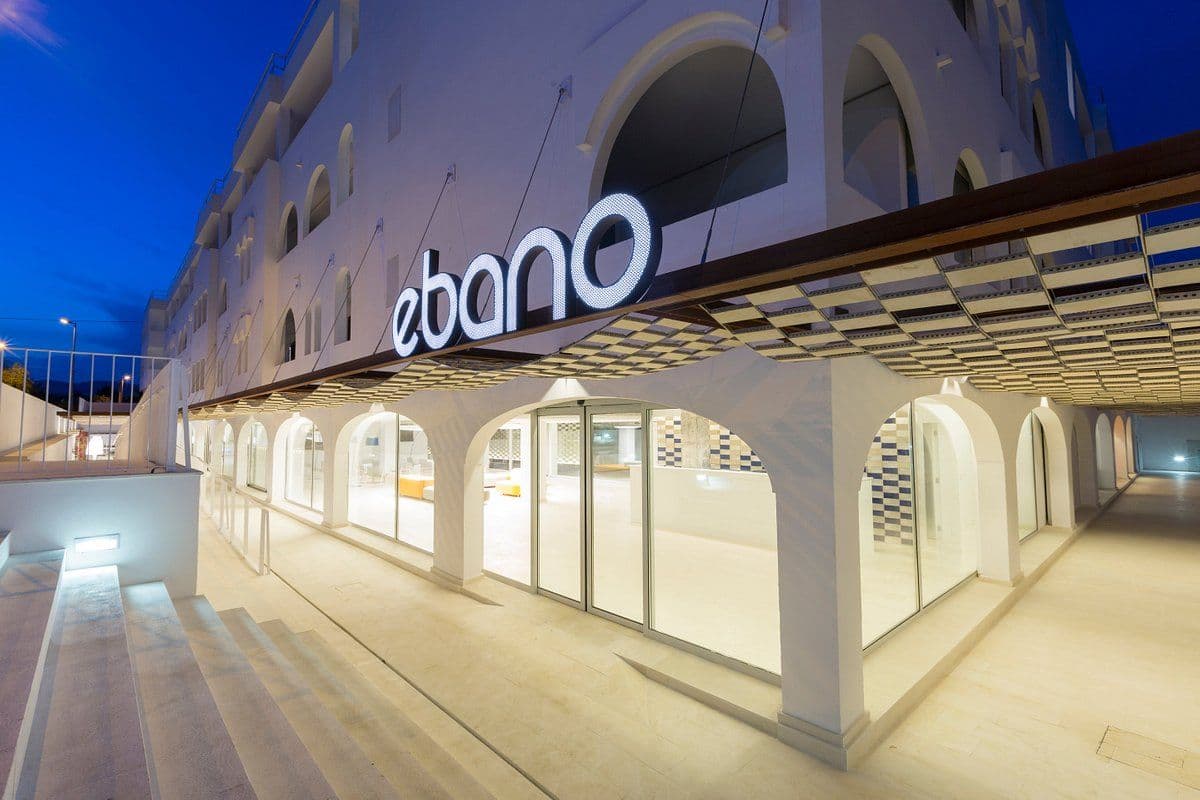 Ebano Apartments
(4.2 / 5 ⭐️)
Description:
Ebano Apartments are world renowned for its excellent location less than 300 meters from the spectacular beach of Playa d'en Bossa. It also is very near the center of the city of Ibiza, with its great tourist atractions and endless options for entertainment and fun.

Tourists visiting Ibiza and staying in this apartment complex get great opportunity of remaining active in the outdoors of the Ibiza island. Right from the water sports activities like sailing, windsurfing to exploring the nearby locations in a car to experiencing secluded beaches to discovering Ibiza's wonderful night life to exploring world renowned Space disco and Bora Bora Club, tourists have immense opportunities of fun and excitement.

Hotel Facilities

The managers and directors of Ebano apartments hold extensive experience in offering the ideal environment and ambiance for a relaxed family holiday.

The friendly and multi lingual staff of the apartments are always willing to help the tourists with the booking, excursions, and car hire services so that visitors can enjoy their trip without any hassle and difficulties. The apartment complex is a hot favorite of worldwide tourists due to several latest facilities and amenities along with high quality food.

Some of the highlighting facilities of the Ebano apartment complex include:

• Restaurant and Bar serving quality breakfast, lunch, and dinner with a choice of beverages.
• Swimming pool
• Arcades Room
• Billiards and Table Tennis
• Playground
• Children swimming pool
• Air conditioned apartments
• Currency exchange
• Internet Service
• Car and bike rental
• Excursions Trips
• Laundry Service
• Lounge with satellite television

Ebano Apartments

All the eighty-two apartment scattered in the three storey blocks are equipped with all the latest facilities and amenities required for the comfortable stay at the apartment. Visitors living at these apartments will be happy spending time around the curvaceous. All the apartments of the Ebano apartments are equipped with the following benefits:

• Air-conditioned
• Telephone facility
• Wall safe
• Refrigerator
• Attached balcony or terrace
• Clean and hygienic room
• Attached kitchenette
• Lounge with sofa bed

The various facilities and amenities offered at each and every apartment of the Ebano, Ibiza have made this apartment complex the most preferred one for the numerous tourists. Thus, tourists from any part of the world looking to explore Ibiza should immediately book a flat at this apartment complex.
We are a family friendly accommodation.
Amenities:
pool
spa
parking
wifi
bar
breakfast
bicycle
child friendly
babysitting
kids club
housekeeping
fitness
sauna
Contact Information
Email:

Info@ibiza-hotels.com

Phone:

+34 971 30 15 02

Location:

playa den bossa, Spain.