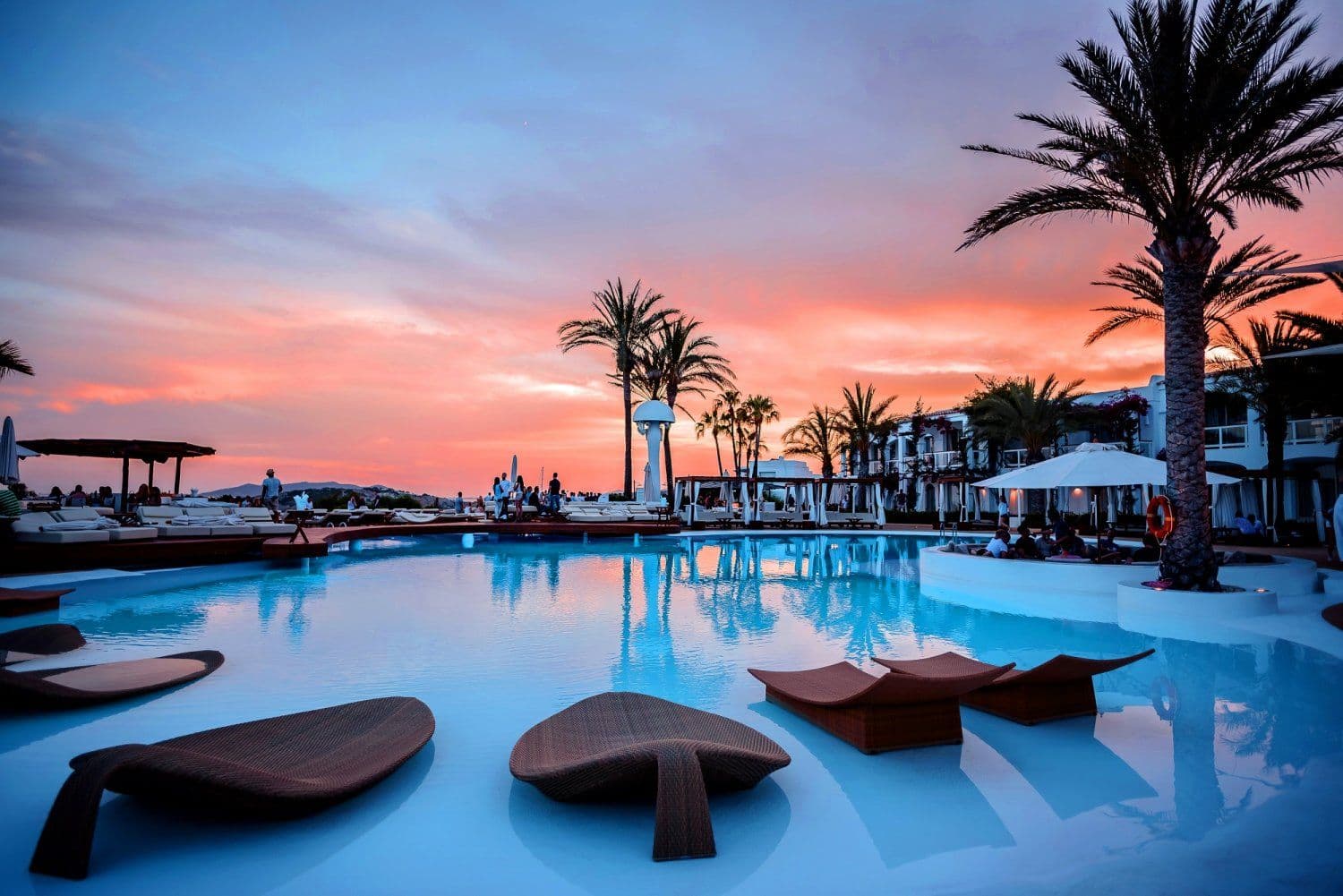 Destino Ibiza
(4.4 / 5 ⭐️)
Description:

The Destino is a wonderful accommodation with stunning views due to its strategic location, high above the sea and overlooking the historic Dalt Vila. It is a 3 star hotel and it offers all the amenities you need for a great holiday.

Located in a green oasis of 50,000 m2 with beautiful palm trees and lush vegetation on the southeast coast of the island, this splendid Destino Hotel is just a few minutes walking distance away from the beach of serene Talamanca and its beautiful bay.

Because of its fascinating natural views and surroundings, this hotel is much popular as a romantic destination for newly married couples and for people who want to enjoy a lovely vacation from the chore.

The hotel is also well connected to the city center and has a bus stop right outside the door.

Rooms:

The Destino Hotel has beautifully embellished 190 rooms, 180 standard double rooms (of which 50 can be equipped with 3 beds) and 10 suites, spread across several buildings ground floor and first floor. All the rooms are integrated with modern amenities to ensure comfort and luxury of the guests.

All with a Mediterranean-style architecture the rooms of Destino Hotel are decorated in contemporary design. The rooms have the following facilities:

* Air conditioning
* LCD TV (Deposit € 20, - for the control of LCD TV and air conditioning)
* Safe (at reception prior pay, except the suites that are free)
* Shower
* Hair dryer
* Small fridge (drinks extra charge on request)

The 10 splendid suites are located overlooking the sea and equipped to accommodate up to 4 people with sofa and dressing-room safe so that guests can relax and enjoy their leisure.

The main building of Destino Hotel is decorated with two beautiful pools, one designed specifically for children. The spacious pool is surrounded by large terraces equipped with sun loungers and parasols.

Restaurant:

The restaurant of Destino Hotel offer views of magnificent Ibiza (Dalt Vila). The breakfast buffet is rich in taste and varied in cuisines. You can also enjoy dinner as a buffet with hot and cold food (water and wine included with dinner).

There are 2 phenomenal bars, one next to the pool, decorated with music and an international bartender.

Also remember, to access the restaurant guests must wear appropriate clothing.

Sports and other activities:

The Destino hotel has a tennis court, a soccer field and of course swimming pools. The well known golf course of Cala Llonga is 10 km away from the hotel.

Other amenities:

Destino Hotel ensures you enjoy your vacation in an unforgettable fashion and so provide services to rent cars, motorcycles and boats.

What's more? Destino Hotel provides 24x7 services to their guests. The staff are amiable, humble and happy to answer questions and give suggestions to the guests.

A few additional services of Destino Hotel are:

* Medical Service
* Baby-sitting
* Massage
* Rental cars and bikes
* Yacht Charter
* 18-hole golf course, about 10 km away
* WI-FI internet conection.

Surprisingly the luxury and amenities of this hotel are made available at pocket friendly price.

If you have are planning for a wonderful vacation in an exotic island then Destino Hotel can simply turn it an everlasting experience for you.
We have WI-FI internet connection.
We are a disabled friendly accommodation.
Amenities:
pool
spa
parking
wifi
restaurant
bar
air conditioning
accessible