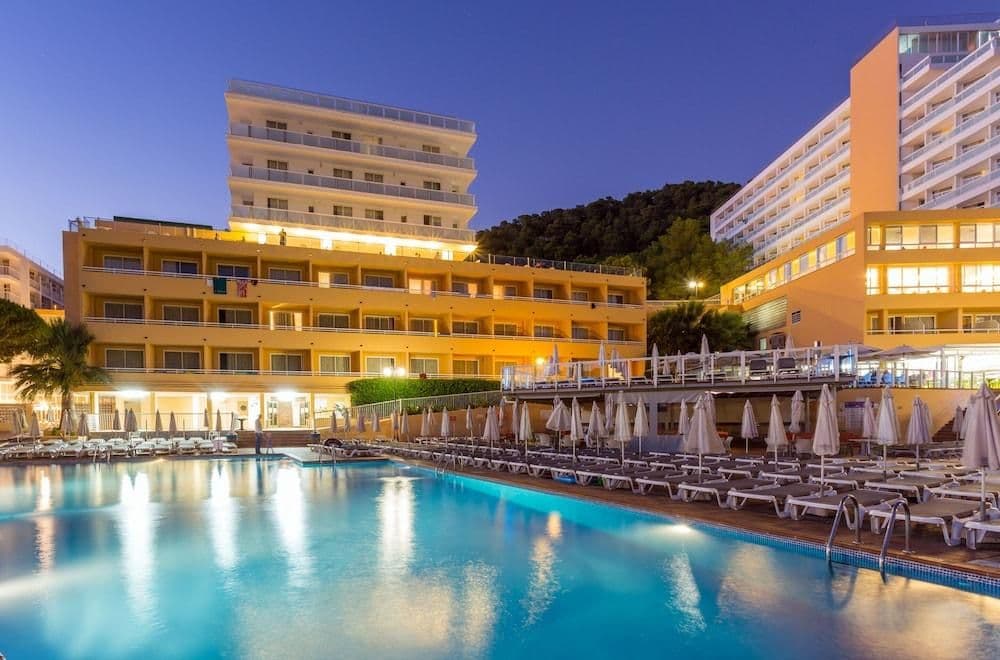 Sirenis Cala Llonga Resort
(3.3 / 5 ⭐️)
Description:
The Sirenis Cala Llonga Resort has three hotels that offer world-class accommodations to its guests. It is also near to Ibiza's shopping centers as well as bars and restaurants. The resort has also various recreational activities and facilities which can truly entertain the guests.

The Sirenis Cala Llonga Resort is one of the magnificent landmarks in Ibiza. This 3-star resort is habituated by three hotels – the Sirenis Hotel Playa Imperial, Sirenis Hotel Playa Dorada and Sirenis Hotel Club Playa. All of these hotels can make your stay in Ibiza so worth it.

The Sirenis Cala Llonga Resort is not just about high-class accommodations. The resort is also home to pristine beach. Its sandy beaches are perfect for those who want to go sunbathing. The resort is also surrounded with great vegetation, making the place a complete relaxation get-away.

For those who are still new to the place, the Sirenis Cala Llonga is just near to Ibiza's famous tourist spots.

These include:

• Ibiza town center (12-km away from the resort)
• Santa Eulalia beach (7-km)
• It is also a walking distance from shopping centers, restaurants and bars

Room accommodations

The hotel management sees to it that guests feel comfortable with their rooms. All guest rooms of Sirenis Cala Llonga Resort have telephone and safe deposit box. High-standard comfortable beds are being provided for a more relaxing sleep.

All rooms have elegantly designed spacious bathrooms with complete toiletries and shower. Centralized air conditioner is also being provided. Guests can also use the hairdryer and satellite television.
Plus, each room has a wide balcony where guests can enjoy the view of the beach.

Recreational amenities

Sirenis Cala Llonga Resort is also known for its wide variety of recreational activities and sports events. In fact, this is one of the most preferred vocational destinations of British Holiday.
Other recreational and entertainment facilities found in Sirenis Cala Llonga Resort are:

• Three swimming pools. There is a separate kiddie pool. For those who do not wish to dip into the water, the poolside has sun deck loungers and a TV set to entertain the guests
• Aerobics sessions
• Beach volleyball
• Billiards/Snooker playing stations
• Gym and Sauna
• Basketball and Tennis courts
• Table Tennis and Darts

Dine and wine

There is an in-house restaurant at Sirenis Cala Llonga Resort that offers buffet meals. The resort has also its own bar where guests can relax and drink beer during the night.

A café is also available for coffee drinks and snacks during the day.
Its buffet dinner is known for its delicious recipes that can add-up to the exciting stay in Sirenis Cala Llonga Resort.

Other amenities

The resort has also these amenities that make guests feel more at home during their vacation in Ibiza:

• Currency exchange station
• Lifts
• Medical service
• Laundry services
• Wide parking space
• Sun beds

Also, Sirenis Cala Llonga Resort is being manned by friendly staff. Their politeness and friendly gesture towards their guests make the resort more endearing to the public.

For those who want to take a break and enjoy the waters, the Sirenis Cala Llonga Resort is just a call away. You can also try online booking so that you can have your reservations easily and promptly.

Reserve now your room of choice and have an experience of a lifetime with Sirenis Cala Llonga Resort.
Amenities:
pool
parking
breakfast
bar
wifi
accessible
fitness