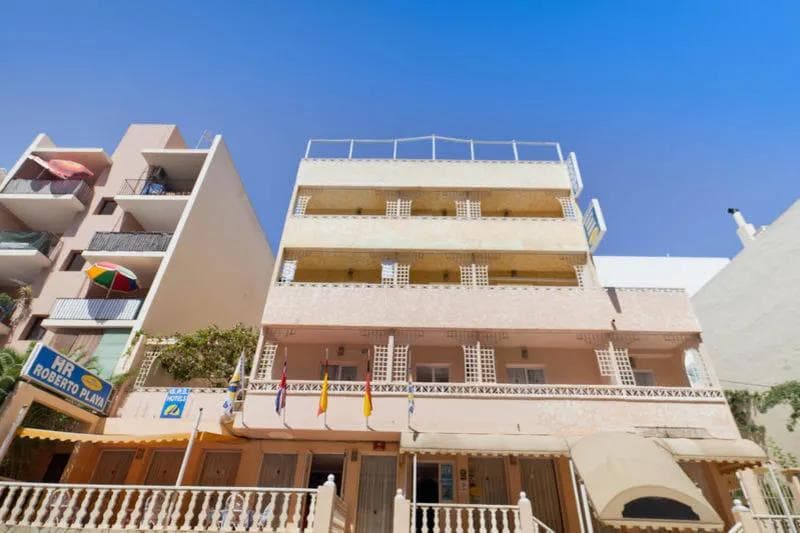 Roberto Playa Hotel
(4.2 / 5 ⭐️)
Description:
Ibiza town is considered as the best holiday spot nowadays and the hostel Roberto Playa in Ibiza is a boom for the visitors.

This hostel is located at the central part of Ibiza town and close to the port. The bars and the restaurants here are the main point of attraction and give the hostel a reason to be the excellent one.

The glorious beaches of Salinas and Playa d' en Bossa are close, the beach of Figueretas is at a distance of around 50 meters from the Hotel Roberto playa.

Hotel Roberto Playa Ibiza is a calm, peaceful, stunning and fabulous hotel where customers are served with a high level of services and warm welcome. Roberto Playa Hotel is a modernized accommodation and is basically renowned for amusing the guests amused with a renovated and classy range of amenities.


In Roberto Playa Hotel all the rooms are well set up with:

• air conditioning
• satellite televisions
• telephony system
• renovated bathroom
• kitchenette
• terrace

Giving you full view of the natural scenery outside.


Swimming Pool :- Around the swimming pool, the guests can avail the lounge with satellite television in a
tranquil area.

Reception :- The reception of the Roberto Playa Hotel is well established with:

• 24x7 service
• money exchange services
• security responsibilities
• arranging communication for the guests with car-hire
• medical services
• pleasure trips
• information about the local area

The traffic to our hotel is increasing and we have limited availability for the season, so feel free to Book now.
Amenities:
beach front
pool
wifi
air conditioning
bar
restaurant
smoke free
accessible
pet friendly