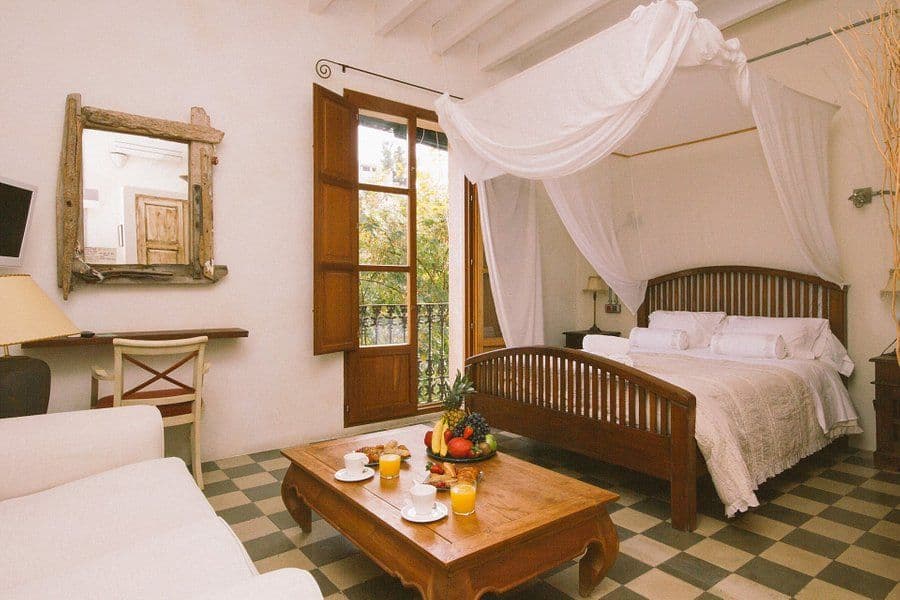 Hostal Vara De Rey
(4.5 / 5 ⭐️)
Description:
Hostal Vara de Rey is a accommodation to give its guests the experience of being at "home away from home". The beautifully embellished accommodation is considered to be one of the coolest hostals in Ibiza town for a great vacation and holiday.

The splendid hostal Vara de Ray is located in the very heart of the mesmerizing Ibiza town amidst the 20th century buildings that has historic significance. The centuries old buildings stand erect facing towards the hostal Vara de Rey and Plaza del Parque, with picturesque views of D'alt Vila. Moreover, the hostal is only at a distance of 2 minute walk to the fascinating Port of Ibiza. From this hostal, you can easily reach to the shops, tempting restaurants, fascinating bars, cafés and even Pacha nightclub.

The pleasant ambience and contemporary amenities makes it a highly recommended destination for romantic breaks. The hostal Vara De Rey is an animal friendly.

Hostal Vara De Rey exhibits youthful charm as it is decorated in ibicincan style with a touch of modern art by artists from the Island.

Rooms:
Each room of hostal Vara De Rey are well maintained and restores the original 1953 design that is sure to make an unforgettable impression in your mind. The interior of the rooms have a very unique charm. The rooms have a stylish hand basin and communal toilets just down the hall. From the rooms, you can also enjoy amazing views.

The hostal Vara De Ray is divided into single rooms, double rooms and suite.

Single room: There are two single rooms with the following amenities:

• Wash basins
• Central air-conditioning
• Street views
• Shared bathrooms.

The double rooms: The hostal comprises of seven lavishly decorated double-room rooms among which four rooms are equipped with double-room beds and the rest with individual beds. The amenities include:

• Wash basins
• Central air-conditioning
• Street views
• Shared bathrooms

If you are looking for an amazing romantic break then here is the Suite. The hostal De Rey has two suites that has the following amaneities:

• Private bathroom
• Double-room bed
• Individual air-conditioning
• TV
• Bar
• Safe

The Special Suite in addition offers stunning views of the castle.

So, why not make your vacation a memorable one by staying in a hostal that would make you feel being in 1950s. As the rooms are limited and the hostal Vara De Rey remain crowded throughout the season BOOK your room now for a lovely and fantastic vacation in Ibiza.

We have WI-FI internet connection.
Amenities:
wifi
air conditioning
pet friendly
smoke free
housekeeping
Tag:
atmosphere
accessibility
cleanliness
sleep