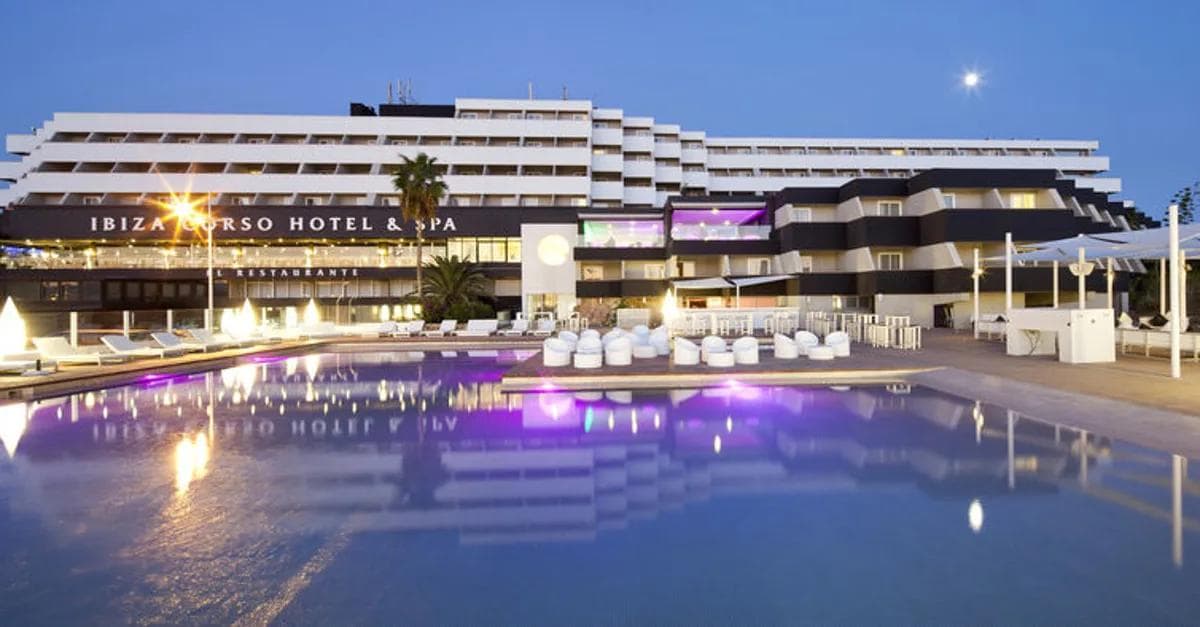 Ibiza Corso Hotel And Spa
(3.3 / 5 ⭐️)
Description:
This time if you are planning to visit Ibiza then you don't have to worry about your comfortable accommodation facilities. Corso Hotel And Spa is situated in Ibiza town and enjoys some of the splendid views of the old town Dalt Vila and the harbor of Botafoc.

This hotel is considered to be one of the best accommodations of Baleares for its unique position and it is only about 200 m away from the wonderful beach of Talamanca.

The hotel can be easily reached from the airport and Ibiza is just 10 minutes by the Corso boat that is available at frequent intervals.

Hotel Details

Corso Hotel And Spa offers a wonderful experience during your stay in Ibiza. It provides the guest 180 rooms that are well equipped with all the modern facilities. There are single rooms that have inland views and the triple rooms have an addition alcove for the third bed and offers privacy to the guests staying there. For more space, the double rooms on the executive floor offers two queen sized beds and all the rooms also have

• Air conditioning
• Satellite TV
• Direct dial phone
• Private bathroom
• In room safe
• Balcony

Other Facilities Include

There is a large buffet restaurant that offers breakfast and dinner. You can enjoy the breathtaking views of the Marina from the restaurant. International cuisines are also served to the guest and the show kitchen adds a comforting touch.

Corso Hotel And Spa has two outdoor swimming pools which also includes a children's pool. The deck is equipped with parasols, sun loungers and a sun terrace that is perfect for sun bathing. The hotel offers some sports facilities also and they include

• Table tennis
• Lawn tennis
• Diving deck

For entertainment of the guest there are also live shows arranged frequently. Some other activities include golfing, boating, windsurfing, mountain biking and hiking trails and all these you will find in the nearby beach area.

Property Amenities

• 24 hour reception
• Bar/lounge
• Patio
• Exclusive Spa
• Wedding and celebration banquet halls
• Workout room
• Car rental desk
• Currency exchange facility
• Laundry services

This hotel is perfect for those who want a refined environment, an exclusive stay in an elegant establishment that meets all the needs of the guests.

If the features of the hotel satisfy you, then get in touch with us and we can help you make your bookings in advance!

We have WI-FI internet connection.
We have a Spa
Amenities:
spa
pool
parking
breakfast
fitness
bar
fitness
smoke free