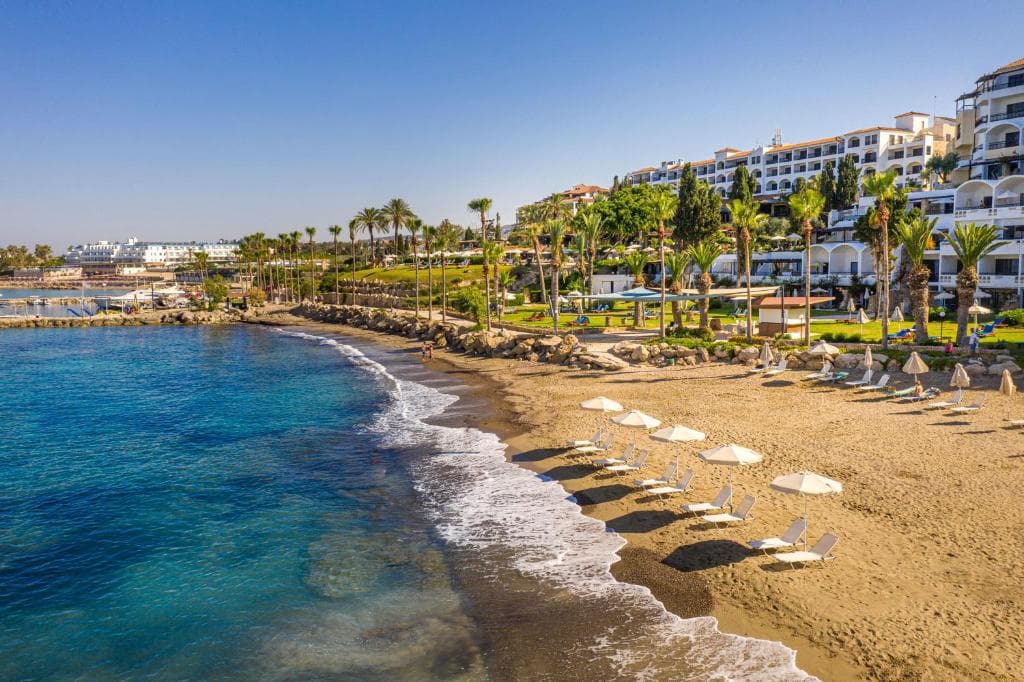 Description:
The Coral Beach Hotel is located on the beautiful beach of Es Canar, in the municipality of Santa Eulalia, Ibiza. All of its rooms are equipped with the basic amenities as well as comfortable beds for relaxation after a day of brisking under the sun.

Tucked heavenly between Cala Nova and Es Cana, the Hotel Coral Beach is something to be reckoned at the beautiful island of Ibiza.

This 3-star hotel is one of the most preferred hotels in Ibiza by both local and foreign tourists. In fact, British tourists keep on coming back to this charming hotel.

Many of its guests claimed that Hotel Coral Beach is perfect for guests who are staying as a family. It is also ideal for young couples who want to enjoy the beautiful waters of Ibiza. Just 23-kilometer from the Ibiza Airport, this hotel can be easily reached along a strip of various beach resorts.

Hotel Coral Beach offers luxurious and comfortable rooms for its guests. Each room has the following facilities and amenities that can make one's stay truly worth it:

• Air conditioner
• Cabled television
• Hot/cold shower
• Elegant bathroom
• Comfortable beds
• Stylish furniture
• Well-tiled floors
• Spacious balcony that allows guests to enjoy the scenic view of the ocean

What make Hotel Coral Beach very appealing is its exciting recreational activities and facilities. Aside from the vibrant atmosphere in nearby commercial spots, this hotel has also its own share of fun activities. These are all made possible because of these great facilities:

• Wide adult swimming pool
• Separate kiddie pool
• Areas that accommodate exciting games such as table pool, darts and table tennis
• Playroom for children where parents can leave their children to the snappy attendants
• Outdoor Kiddie Playground
• Poolside Snack Bar
• Video Room
• Various water sports
• Spacious veranda where guests can relax and enjoy the view of the beaches

Plus, Hotel Coral Beach has various exciting activities and programs for its guests, both adults and kids.

Other services offered in Hotel Coral Beach include:

• Currency exchange corner
• Internet connection
• Tour packages
• Car for hire

When it comes to great-tasting food, Hotel Coral Beach is not left behind. Its restaurant offers buffet of delicious meals, ranging from various international recipes.

Aside from its classy amenities and exciting activities, Hotel Coral Beach also takes pride with its skilful and very accommodating staff. Its 24/7 reception lounge is always ready to attend any query from the guests. The friendly employees add-up to a more memorable stay in the hotel.

Guests are also assured on the security of the place. Hotel Coral Beach has 24/7 round the clock security.

Meanwhile, Hotel Coral Beach offers affordable rates. This is very ideal for those who are travelling in a tight budget. Who says one cannot enjoy Ibiza at a lesser cost? This hotel makes sure that guests can enjoy the beautiful island of Ibiza without spending much for their accommodation. Despite its affordable rates, guests can still expect high-class accommodation and great customer care.

Enjoy Ibiza and its sparkling blue waters by staying at this beautiful hotel.
Amenities:
beach access
wifi
breakfast
restaurant
bar
pool
child friendly
accessible
lift